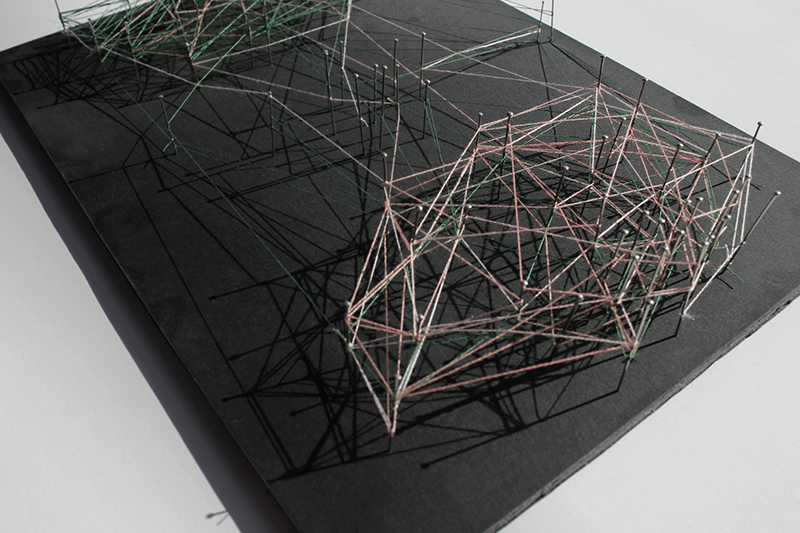 The pre-match mockup created involved using needles and thread to represent the expected results of tracking the players in a basketball game. This physical representation helped them plan and visualize how the data would be displayed in their final digital infographic.
Process
The project began with inspiration from Espada y Santa Cruz's work on tracking the trajectory of a tennis ball in Corona Perspectives. Dos Juegos conducted various tests and research on representations, mapping, tracking, and SportUV research to develop their approach. They created a mockup using needles and thread to represent the expected result of player tracking in a basketball game.

After laying down their ideas, Dos Juegos decided to create a digital infographic to represent the results of a basketball game.
To gather the necessary data for the infographic, they recorded a women's senior basketball match using a combination of cameras, including two Canon 7D, one Canon 5D, one camera 550D, and a GoPro2. They then analyzed the footage to track the players' trajectories and gather analytical data, such as the total number of shots, points, and personal fouls. Additionally, the physical performance of the players was monitored using Fitbit bracelets.
The resulting data provided valuable insights into player performance and team strategies that Dos Juegos used to develop the digital infographic in an attractive and easy-to-understand visual format.

The gathered data includes the scores of points, shots, and fouls by quarter and for the whole game, as well as the visual trajectory of individual players. Additionally, the comparative trajectories of two players in different positions (forward and center) were analyzed for activity performance, such as distance traveled, steps taken, calories burned, and playing time.